Summer Teachers Institute 2013
Climate Change in the Pacific Northwest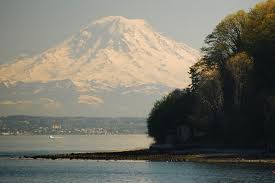 Teachers from grades 4-12 are invited to attend this year's Summer Teacher Institute, a three day workshop at the Nisqually National Wildlife Refuge! This training is free for teachers in the South Sound GREEN, Nisqually River Education Project, and Chehalis Basin Education Consortium projects. Teachers who attend will gain skills and experience implementing Climate Change science activities and community action projects in their classroom, gain an understanding of local, global, and historical watershed resources and issues, and learn water quality testing skills and knowledge. Teachers will learn how local tribes are already responding to climate change and will also have the opportunity to meet local professionals and experts! This workshop includes a tour, led by the Skokomish Natural Resources staff, of the Skokomish Estuary, as well as a trip to Taylor Shellfish in Shelton, WA. Earn 19 clock hours, and 3 bonus clock hours if you complete and hand in a climate change unit by July 1st!
To register online click HERE. For more information contact Sheila Wilson at sheila@nisquallyriver.org
Updated Resources: 6/25/2013
Resources presented during STI 2013
Facing Climate Change Videos:
Guest Presenters for STI 2013
Field Trips STI 2013
Skokomish Estuary Phase 3

-This project represents Phase Three of the Skokomish River Estuary Restoration, and uses an adaptive and staged approach in the original Phase I area. Phase III includes additional salt marsh in the western edge of the estuary and wetland/channel connectivity in the phase I site. This phase is a continuation of Phase I and II and will restore estuarine functions by re-connecting wetland channels through the salt marsh, restoring tidal channels, enhancing roads to connect natural wetland flow or tidal channels, and filling or enhancing ditches for wetland channel habitat.

Taylor Shellfish

-We are the largest producer of farmed shellfish in the United States. Under the leadership of the Taylor family of Shelton, WA, our business has grown to nearly 500 employees and 11,000 acres of tidelands along the Washington coast and British Columbia. We also operate additional hatchery and nursery facilities in Hawaii and California, a shellfish distribution business in Hong Kong, and are partners growing Fiji Pearls with J. Hunter Pearls Fiji, Ltd.
Additional Presentation and Online Resources:
Northwest Indians Fisheries Commission articles on Climate Change:
Videos:
Additional Resources Identified During STI 2013:
Power Point Presentations: