Biomimicry and Climate Change
June 22, 23, 24 at Nisqually National Wildlife Refuge
This training is free for teachers in the South Sound GREEN, Nisqually River Education Project, and Chehalis Basin Education Consortium projects.
Teacher participants will:
Learn from tribal, local and state climate change experts- meeting the challenges and seizing opportunities
Learn about nature-inspired solutions for a healthy planet through particpating in hands-on activities & field trips 
Gain skills and experience to implement Biomimicry and Climate Change curriculum and community building action projects in your classroom
Receive curriculum to support action project and service learning participation
Learn water quality in the context of Environmental and Sustainability Standards, NGSS and Common Core
Contribute to program development and enhancement
Resources  presented at STI 2015:
Biomimicry in Youth Education: A Resource Toolkit for K-12 Educators – a digital flipbook indexing over 80 biomimicry education resources, selected to assist teachers working with students from kindergarten through high school.
AskNature.org – AskNature is the world's most comprehensive catalog of nature's solutions to human design challenges. This curated online library features free information on more than 1,800 (and growing!) natural phenomena and hundreds of bio-inspired applications.
Nature Nuggets Learn biological strategies and their corresponding design principles in a series of short and fun videos.
Velcro Race Game – This fun interactive has students race to put on apparel using Velcro (an invention inspired by Nature), and apparel using other devices (e.g., zippers, snaps, etc.), and compare and discuss the results. And the song!
Shoe Patterns
Hunting and Gathering For Ideas – Students of all ages can be taught to view  nature through a biomimicry lense. How can we learn from nature instead of learning about it?  Viewing nature as having something to teach us is a fundamentally different way of looking at the natural world that surrounds us.  Through this lesson, biomimicry can change not only how we view the natural world, but  how we value it as well.
Here's Davy Clark's powerpoint about the 5 Major Habitat Types at Nisqually National Wildlife Refuge.
Biomimicry Design Approaches for K-12 – Created for the Biomimicry Youth Challenge, this diagram and accompanying teacher resources introduces our "Biology to Design" and "Challenge to Biology" design methodologies to a K-12 Audience.
Ask the Planet CD/MP3 and Teaching Guide Ask the Planet is the Biomimicry 3.8 Institute's award-winning album of children's music, created help connect children to nature and create a sense of awe for the environment. Every song is joyously performed by The Missoula Coyote Choir and Friends.
Puget Sound Restoration Fund's Hood Canal Kelp Project is a powerful, local example of the potential for solutions to climate change and ocean acidification.
ABC:Activity Bursts in the Classroom At this time when childhood obesity is an epidemic, and what used to be "adult onset" diabetes is occurring with increasing frequency in children under age 10, our kids need regular physical activity more than ever. But pressures on schools – in part related to the federal No Child Left Behind legislation – are causing reductions, not increases, in daily physical activity. In other words, No Child Left Behind is leaving more and more of our kids ON their behinds, all day long.  Use this manual for some great ideas on incorporating physical activity into your daily classroom routines.
Project GREEN Prezi– includes some resources for water quality monitoring, benthic macro-invertebrates and designing your service learning projects
Curiosity Machine – Imagine, invent, engineer.  Join this on-line community of scientists, engineers and children creating together.
Puget Sound Restoration Fund's Hood Canal Kelp Project is a powerful, local example of the potential for solutions to climate change and ocean acidification.
Climate Change in the Pacific NW and NOAA grant resources– a Prezi for you with lots of great links and resources
 Guest Presenters:
Tim McGee– Biologist & Biomimicry Strategist, Biomimicry 3.8
Tim is a trained interdisciplinary biologist with an interest in applying biological know-how to industrial systems. Tim is a regular contributor to Treehugger the leading media outlet dedicated to driving sustainability mainstream. Tim's wealth of experience in biological research, industry, and design enables him to act as a Biologist at the Design Table with Biomimicry 3.8, where he helps clients explore how the natural world can help their company innovate and create a sustainable future. Here's our Introduction to Biomimicry powerpoint as presented by Tim McGee from LikoLab.
Aimee Christy is a research biologist at Pacific Shellfish Institute. She holds a B.S. from the University of Washington and an M.S. from The Evergreen State College. Her current research projects include nutrient bioextraction using blue mussels, microplastics, harmful algal blooms, water quality outreach for K-12 students and alternative disposal practices for dog waste in urbanized environments. Here's her presentation
Rick Crooks is responsible for the sales and promotion of Mutual Material's hardscape product line to design professionals in the greater Puget Sound area. Key products are brick and concrete pavers (including permeable interlocking concrete pavers, or "PICP") and segmental retaining wall (SRW) block systems. Rick also manages the promotion of Mutual's entire masonry product line to key "South Sound" architectural and engineering firms.  They have their own Youtube Channel.  Here's his presentation.

Micah McCarty Executive Officer at Nisqually Tribal Council, First Stewards, US Department of Commerce. Previously worked at The Evergreen State College, National Ocean Council's Governance Coordination Committee and was a member of Makah Tribal Council.
Katherine Billings  Biomimicry Improv 

Field Trips at STI 2015:
Other Resources Provided at STI 2015:
Fostering Outdoor Observation Skills This curriculum will engage students in an area of learning that may be the oldest of all the cognitive disciplines. The closest name modern academia offers is "field ecology." It might also be called "nature literacy": an ability to read the "Book of Nature" fluently.
Pacific Education Institute founded in 2003 by a consortium of leaders from the private and public natural resource, agriculture and education sectors; including the Washington Forest Protection Association, Department of Fish and Wildlife, Office of the Superintendent of Public Instruction and key education stakeholders from the principals', superintendents' and school directors' associations.  Together they have established teaching frameworks to guide project-based learning in the outdoors grounded in Washington State's educational goals, the Common Core and Next Generation Science Standards.
Drain Rangers curriculum for primary and secondary grades – a great resource page from Puget Sound Starts Here and Pacific Education Institute.
US Fish and Wildlife Service Freshwater Mussels- powerpoint 
Pacific Northwest  Freshwater Mussel Work Group – poster,  booklet  and more on Freshwater Mussels.
Here's a pre-survey to give your students before you start your  Biomimicry unit.
Art of Hosting is an approach to leadership that scales up from the personal to the systemic using personal practice, dialogue, facilitation and the co-creation of innovation to address complex challenges.
Teacher Input
Katie Standlea's Wiki Pag

e

 with NOAA Climate Stewards info
Web Hutchin's offers 2 great web pages: Civics For All with lots of great curriculum resources and End the DNR Mandate where you can sign a petition to stop the state from clear-cutting forests to fund public education.
Becky Hendrickson found a great non-fiction book on Biomimicry on the Reading A-Z website, which has free trials, FYI!
Summer Teachers Institute 2014 – Taking Action & Becoming Ecoliterate
Resources presented at STI 2014:
MindUp – A

research-based training program for students and teachers, providing social and emotional learning skills that link cognitive neuroscience, positive psychology and mindful awareness training utilizing a brain centric approach.

Ecoliteracy – The Center for Ecoliteracy is a nonprofit that advances ecological education in K–12 schools. We recognize that students need to experience and understand how nature sustains life and how to live accordingly.
Garden Raised Bounty (GRuB) – grassroots non-profit organization based in Olympia, Washington, dedicated to nourishing a strong community by empowering people and growing good food.
Office of Native Education – Indian education dates back to a time when all children were identified as gifted and talented. Each child had a skill and ability that would contribute to the health and vitality of the community. Everyone in the community helped to identify and cultivate these skills and abilities. The elders were entrusted to oversee this sacred act of knowledge being shared. That is our vision for Indian education today.
Nisqually Reach Nature Center (NRNC) – A volunteer-run, membership-supported, nonprofit organization that promotes the understanding, appreciation, and preservation of the Nisqually estuarine ecosystem and its integral role in the local environment, history, and culture, through interpretation, education, and research.
Pacific Education Institute – PEI expands students' opportunities to learn in outdoor settings throughout Washington State. Students apply math, science, the arts, and social studies skills to field investigations both out-of-doors and in their classrooms. PEI's rigorous research-based approach assures that students are "learning by doing".
My Watershed Pledge – A publication from partnering organizations, Chehalis Basin Education Consortium, South Sound Green, Nisqually River Education Project, U.S. Fish and Wildlife Service, with help from Americorps and Washington Conservation Corps.
Healthy Water, Healthy People – An innovative water quality education program sponsored by Project WET and the Hach Scientific Foundation. The goal of Healthy Water, Healthy People is to make complex concepts of water quality relevant and meaningful for you and those you teach.
Beyond Waste – Beyond Waste is the Washington state plan for managing hazardous and solid waste. This 30-year plan has a clear and simple goal: eliminate wastes and toxics whenever we can and use the remaining wastes as resources. This will contribute to economic, social, and environmental health.
Project Learning Tree – Project Learning Tree is an award-winning environmental education program designed for teachers and other educators, parents, and community leaders working with youth from preschool through grade 12.
Wild Thyme Farm – A private eco-retreat near Olympia Washington. These 150 acres of forests, pastures, gardens, orchards and streams, showcase an evolving model of wild forest management, permaculture, agroforestry, diversity.
Olympia Beekeepers Association – A non-profit organization which provides education, training and support for beekeepers in Thurston County.
River of Words – Every year, in affiliation with the Library of Congress Center for the Book, River of Words sponsors a free international poetry and art contest on the theme of watersheds. The contest is open to students ages 5 through 19 anywhere in the world.
Wasted Food Project – From The Solid Waste Program, of Thurston County's Public Works Department, comes a campaign to waste less food in Thurston County, through public education and action.
Plant for the Planet – Founded by then-nine-year-old Felix Finkbeiner, Plant-for-the-Planet is a children's initiative that aims to raise awareness amongst children and adults about the issues of climate change and global justice. The Initiative also works to plant trees, and considers this to be both a practical and symbolic action in efforts to reduce the effect of climate change. In 2011, it reached a goal of planting a million trees.
Guest Presenters for STI 2014:
Field Trips at STI 2014:
Nisqually Reach Nature Center – On Monday at STI 2014, participants will visit NRNC, on Luhr Beach, and receive presentations from Daniel Hull, Director at NRNC, about citizen science. Participants will be involved in a beach seine, quadrant survey, plankton survey, and beach clean-up.
Wild Thyme Farm – On Tuesday at STI 2014, participants will visit Wild Thyme Farm, and receive a walking tour from farm Director, John Hendrickson. Wild Thyme is a "private eco-retreat near Olympia Washington… 150 acres of forests, pastures, gardens, orchards and streams, showcase an evolving model of wild forest management, permaculture, agroforestry, diversity." While here, participants will also receive presentations about bees and pollinator gardens, and riparian restoration with the Chehalis Tribe.
Other Resources to be Provided at STI 2014:
Summer Teachers Institute 2013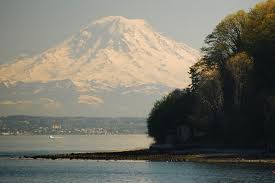 Climate Change in the Pacific Northwest
Teachers from grades 4-12 are invited to attend this year's Summer Teacher Institute, a three day workshop at the Nisqually National Wildlife Refuge! This training is free for teachers in the South Sound GREEN, Nisqually River Education Project, and Chehalis Basin Education Consortium projects. Teachers who attend will gain skills and experience implementing Climate Change science activities and community action projects in their classroom, gain an understanding of local, global, and historical watershed resources and issues, and learn water quality testing skills and knowledge. Teachers will learn how local tribes are already responding to climate change and will also have the opportunity to meet local professionals and experts! This workshop includes a tour, led by the Skokomish Natural Resources staff, of the Skokomish Estuary, as well as a trip to Taylor Shellfish in Shelton, WA. Earn 19 clock hours, and 3 bonus clock hours if you complete and hand in a climate change unit by July 1st!
To register online click HERE. For more information contact Sheila Wilson at sheila@nisquallyriver.org
Updated Resources: 6/25/2013
Resources presented during STI 2013
Facing Climate Change Videos:
Guest Presenters for STI 2013
Field Trips STI 2013
Skokomish Estuary Phase 3

-This project represents Phase Three of the Skokomish River Estuary Restoration, and uses an adaptive and staged approach in the original Phase I area. Phase III includes additional salt marsh in the western edge of the estuary and wetland/channel connectivity in the phase I site. This phase is a continuation of Phase I and II and will restore estuarine functions by re-connecting wetland channels through the salt marsh, restoring tidal channels, enhancing roads to connect natural wetland flow or tidal channels, and filling or enhancing ditches for wetland channel habitat.

Taylor Shellfish

-We are the largest producer of farmed shellfish in the United States. Under the leadership of the Taylor family of Shelton, WA, our business has grown to nearly 500 employees and 11,000 acres of tidelands along the Washington coast and British Columbia. We also operate additional hatchery and nursery facilities in Hawaii and California, a shellfish distribution business in Hong Kong, and are partners growing Fiji Pearls with J. Hunter Pearls Fiji, Ltd.
Additional Presentation and Online Resources:
Northwest Indians Fisheries Commission articles on Climate Change:
Videos:
Additional Resources Identified During STI 2013:
Power Point Presentations: