Tossing Salmon? Why?
One of my favorite activities we do is Salmon Carcass Tossing! Ew, right?! Why on Earth would we do that?! Three words, marine derived nutrients! Lets break down what that is. First, marine, from the sea. Second, derived, comes from. Lastly, nutrients, the compounds used by life to live and grow!
Watch this cool video for a little more on how salmon benefit the forest around them, and in turn how those benefits support salmon populations!  Salmon Life Cycle
sčədadxʷ  Video from Salmon Defense -sčədadxʷ (salmon) is an animated short featuring Billy Frank Jr. that takes you up the river through the eyes of the salmon showing its pristine environment; its connection to the Pacific Northwest People; the arrival of the settlers; habitat degradation; the unification of people throughout the world working together to save salmon and salmon habitat.
Check out this Salmon Activity Book from the Columbia River Inter-Tribal Fish Commision!  It has word searches, mazes, pictures to color, info about the native tribes that depend on salmon, and a whole lot more.
Our salmon carcass tossing trip plays an important role in moving those marine derived nutrients to the forest. When hatchery salmon return from the ocean they are harvested for eggs and milt to start a new generation of salmon. It's our task to take the carcass of the harvested salmon and return it to historic nesting grounds! This transports all those essential nutrients that the salmon absorb while out at sea to the rivers where the next generation grows!
Where do you think salmon go once they've entered the ocean? Would you find it surprising that each species of salmon has its OWN migration pattern? Compare the three routes below and think about the different kinds of habitat offered just in the ocean!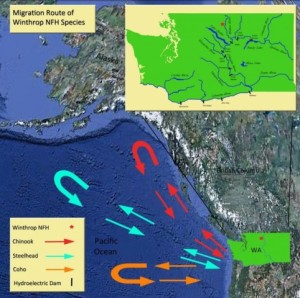 Watch a salmon cube crash to the ground!
Now that you've had a chance to look through some new material, take a minute and scan through the Salmon Tossing Pre-Trip at your own pace! Or maybe you just want to watch that Salmon Life Cycle video again. 🙂
One student's perspective in poetry….
Throwing Salmon
Throwing salmon makes me feel cold under my winter coat.
Feel the frosty coat on the salmon,
watch it go diving in the water…
making bears and wolves say "Bon Appetit!"
Bears and wolves and even moles
come up to say, " hello"
Oh all the wonders and thoughts
that make us wonder even more…
About all the wildlife that comes at night
to enjoy a bite of salmon.
Even though they are frozen,
….deep deep inside of us
we feel good and happy that we are doing it to help.  
Even though they're  gone
more salmon will spawn.
            And that's the life of helping salmon.
                                                                          By J. Padilla