Eye on Nature is a fun chance for you to come with your class to the Nisqually National Wildlife Refuge with us! What are we going to be doing? Well, we try to concentrate on two main activities, but get easily sidetracked!
Nature Mapping: We walk around the refuge and and take very specific notes about what animals we see, where we see them, what they're doing, and a few other parameters.
Ethnobotany walk:  Again we'll take a walk around the refuge learning the local plants and what they're used for traditionally!
Check out our Eye On Nature At-Home Bird Activity! This activity uses photos and recordings to explore birds, and the worksheet can be filled out from home!
Here are some pictures from this last year!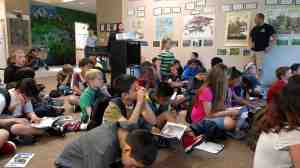 If we're coming to your classroom or you want to learn on your own, check out this presentation, Eye On Nature 2014, for some great information about Eye on Nature! You can follow along with this worksheet: Eye On Nature Notes 2014. Click here to view the field guide we use on the field trip!
Learn to Identify common birds found in the refuge. Click the links below for Cornell's Ornithology Web page; learn their colors, habitat, and SOUNDS!