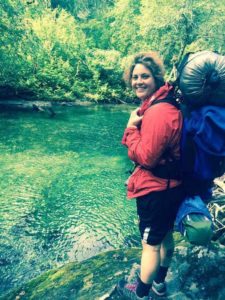 Linsey Fields is the new Environmental Education Intern for the Nisqually River Education Project for the 2016-2017 school year. Linsey is completing her Bachelor of Arts in Environmental Conservation at The Evergreen State College. She is excited to gain hands on experience in the areas of environmental stewardship/protection by working with the different schools in the Nisqually River Watershed.
Linsey has experience working with the DFW of Washington State as a Scientific Technician in the Ocean Sampling program, as well as working with the Department of Health monitoring the presence of Vibrio P. in Pacific Oysters.
Originally from Kentucky, Linsey has developed a passion for engaging the community in protecting Washington's unique marine water features and marine life. Especially the iconic Salmon species.
Outside of work Linsey can be found exploring Washington State, and soaking in its hot springs. She is also an avid basketball player and aspiring coach.
Along with Sheila and Kalicia, she will be available to present in classrooms on the different projects of NREP including water quality monitoring and tree planting.
Lindsey can be contacted by email at linsey@nisquallyriver.org, or phone at 360-359-5236