Hello! My name is Chrissy Webb, and I am so excited to be part of the Nisqually River Education Project. As a new resident of the Nisqually watershed,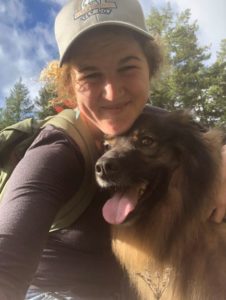 I'm eager to not only get to know and explore this unique system, but to study it, protect it, celebrate it, and help others do the same.
Growing up in Montana, my love and fascination for the natural world began at a young age, and this has led me around Montana, Utah, Wyoming, Idaho, Washington, and Alaska for school and work. I graduated from the University of Montana in 2017 with a degree in Environmental Studies and a minor in Wilderness Studies. My most recent professional experiences have focused on sockeye salmon research in Bristol Bay, Alaska, and other fisheries research projects. I am eager to share my research experiences as a teaching tool in the watershed community.
I consider myself a product of meaningful environmental education, so know that effective education and community engagement programs play major roles in the development of sustainable land-human interactions, and thus the conservation of our natural world. I am excited to be involved with an organization that emphasizes these values of stewardship in such a unique natural setting.
In my free time I enjoy hiking with my four-legged best friend Coca, practicing yoga, reading good books, listening to good music, and fishing.