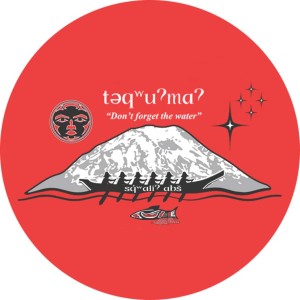 Continuing 24 years of impactful partnership, the Nisqually River Education Project and South Sound GREEN hosted the Annual Student GREEN Congress, bringing 399 student delegates together to share their water quality studies results and participate in community inspired workshops. Classes that participated in our Water Quality monitoring trips take this opportunity to send 8 student delegates along with their results from both Fall and Winter testing. Delegates came from schools in South Sound (North Thurston, Olympia, Tumwater school districts) and Nisqually Watershed (Yelm, Clover Park, Eatonville and North Thurston school districts).  To prepare they collaborated with their classmates to create a short presentation complete with pictures, data, and suggestions for action where standards were not met.
399 students, plus their teachers, and nearly 100 volunteers, came together at The Evergreen State College to make the magic happen. Student MCs covered the history of GREEN Congress and the agenda for the day. Then they heard from our Keynote Speaker Hanford McCloud of the Nisqually Canoe Family. He shared the modern legacy of Canoe Journey, which the Nisqually Tribe will host this summer, bringing 10,000+ people to Percival Landing in Olympia.  Each year a different tribal nation hosts other Indigenous nations coming from coastal communities of Alaska, British Columbia, Oregon, and Washington.
Depending on the destination the trip can take an entire month to complete. Participants learn traditional canoe carving and decorating, and work together as a "canoe family". All Canoe Journeys activities are family-friendly, and drug- and alcohol-free. This year's Canoe Journey theme is "Don't Forget the Water".  To learn more about Canoe Journey and this year's theme, click here.
The delegates follow the keynote by breaking into classrooms and discussing their water quality data, what we call "State of the River" sessions. The 8 delegates are split into groups of 4 and present in different classrooms, thus gives each set of data two presentations to different delegates. This benefits the delegates who can return to their classrooms with many more ideas for action than just one presentation and discussion would hold.
After sharing their presentations on water quality in the morning, delegates enjoy a lunch they brought with them and prepare for educational workshops in the afternoon. Lunch is always important, but GREEN Congress lunch time deserves a special mention. Not only are students bringing lunch from home, but they are encouraged to bring with them a waste free lunch. Meaning every part of their lunch should be edible, reusable, or recyclable. Every opportunity is taken at Congress to teach the importance of our environmental impact!
The afternoon focused on 28 different hands-on workshops to explore STEM topics.  Delegates ranked their top 6 workshops when they registered for Congress, choosing between two 50 minute workshops or one 100 minute workshop. Topics included renewable energy sources, marine mammals of the Pacific NW, dissecting salmon, building backyard bird habitat, minerals and fossils, and keeping toxins out of your personal care products. Presenters came from Pacific Shellfish Institute, US Fish & Wildlife, Olympia Beekeepers Association, Thurston Conservation District, and elsewhere.
The day concluded with students taking the "Watershed Pledge", which calls us all to action in our communities to make the water, land, and people healthier. They've already brainstormed action ideas in their "State of the Rivers" sessions. Now they can share these ideas with their classmates and encourage an ongoing conversation of environmental stewardship and responsibility.