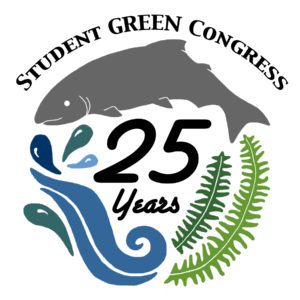 The 25th Annual Student GREEN Congress will be held at The Evergreen State College on March 23, 2017!
COMING SOON…. resources to prepare you and your students; includes the Teacher Checklist, Student Registration Form, Workshop Menu, Parent Letter,  Powerpoint template, and more!
Preparing Your Students for Congress
Here are some materials you can use to prepare your students for their Congress presentations. These presentations should be 3-5 minutes long and should cover the information found in the Student Delegate Prep Sheet (see below). They can be very high tech or very low tech- check out the Congress Presentation Ideas page for more info. If you would like assistance in getting your students ready, please just give us a call! We can help!
Student Prep Sheet
Fall Water Quality Data
Winter Water Quality Data Draft
Presentations ready to go? Follow this link to upload into our shared folder!
Useful documents for the day of Congress
Below you will find additional documents that will be useful on the day of the event:
Rivers Session Outline
24th Annual GREEN Congress Agenda
Map of The Evergreen State College
———————————————
Learn more about Congress with this presentation: Student GREEN Congress 2016
Resources from GREEN Congress 2013
Posters from TESC Students in the 2013 "The Nisqually River: From Mountain Goats to Geoducks" Program
Mammals of Nisqually Watershed
Raptors of Nisqually Watershed
Water Testing- pH and Turbidity
Who's Living in Your Watershed?