What is a watershed, anyway? Check out this map!  Each color represents a different watershed in our country.  A watershed is all of the land area, including the living things, non-living things, including it's people, their culture and traditions. Learn more about this map here.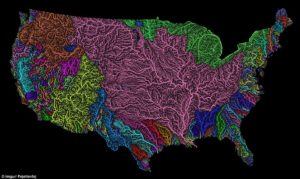 Water Quality Monitoring, that's a mouthful! What's it mean? One of the service learning activities we get to do is testing our waters to see how healthy they are! We do a handful of test in total, they are turbidity, dissolved oxygen, temperature, fecal coliform, pH, nitrates, and BOD. What do all these even mean? Here is a great introduction into the different tests we do to test water quality!
WQM_1_2_Intro_water_quality_values
Some of the equations we use for testing water quality can be difficult, here is some good practice!
Puget Sound Starts Here
If you are interested in how to help keep the watershed clean, here are some action videos made by Pierce County Conservation District and Transect Films.