Over the last few weeks, the NREP has had the pleasure of providing the students with opportunity to apply what they've learned in the classroom to real world experiences in what we like to call service learning! Beforehand, we made classroom visits to inform the students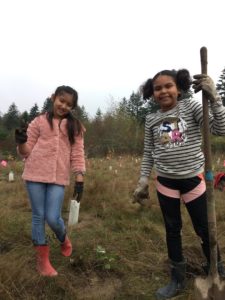 about why healthy riparian zones are important and just how planting native vegetation contributes to that. The students were all more than eager to get out and do their part. With the help of 12 different schools we were able to plant 2,471 trees this season across Ohop Valley, Red Salmon Creek, and Muck Creek!
Community engagement is a fundamental part of the NREP and we are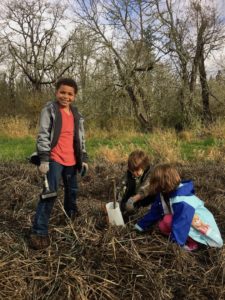 so happy to and include students, teachers, and parents in our restoration work and educate them about environmental stewardship. After each group was done, we asked the students, teachers, parent volunteers, and staff to form a circle and describe their day in one word. Most of the responses we heard were, "muddy," "fun," "exciting," "dirty," "earth," but we also heard responses like "fulfilling," and "rewarding." To be able to engage these groups and hearing their excitement in doing things that matters is more than an accomplishment.

As we come to an end of this year's tree planting season we'd like to recognize the following for their participation:


Cougar Mountain Middle School (6th grade)Columbia Crest A-STEM Academy (6th-8th grade)

Weyerhauser Elementary

Eatonville Elementary (4th grade)

Wa He Lut Elementary (5th grade)

Shining Mountain Elementary (5th grade)

Charles Wright Academy (3rd grade)

Eatonville High School

Nisqually Middle School

Rainier Elementary

Meadows Elementary

Chloe Clark Elementary (3rd Grade)

UW Tacoma

Thank you to all the students for your help and especially the parents and teachers for make this happen. Rain or shine, these groups stuck it out and did some awesome work! Thanks also to our funders and partners: Nisqually Indian Tribe, Nisqually Land Trust, Joint Base Lewis-McChord, Washington Department of Fish and Wildlife, NOAA and Model Forestry Policy Program.

Until next season!